Gearing Ratio
This ratio measures the size of the firm's long term loans against the size of the amount of money invested in the company. This ratio is expressed as a percentage. If a business has a high gearing ratio it means that a large amount of the money invested in the business, is from long term loans. Conversely a low gearing ratio means that a small proportion of the money invested in the business comes from long term loans.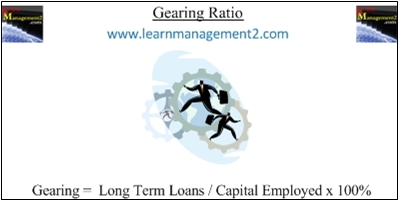 How Do You Calculate A Firm's Gearing Ratio
The following formula is used to calculate the Gearing Ratio for a firm:
Gearing  =  Long Term Loans  x  100% 

       _____________

       Capital Employed
What Are Long Term Loans
Long term loans are made up of bank loans and debentures.
A debenture is usually a bond that is bought from the firm. The firm will pay interest to the holders of the debenture.
Capital employed is made up of loans, share capital and reserves.