Action Centred Leadership
John Adair
Introduction
Leadership theorist John Adair devised his Action Centred Leadership Model following observations of leaders and their followers during the 1970s. Under this theory leaders are responsible for three functions; the task, the individual and the team. Adair captured his theory in a three circle diagram; in which each of the circles overlapped.
The diagram below captures the 3 essential components in Adair's Action Centred Leadership Theory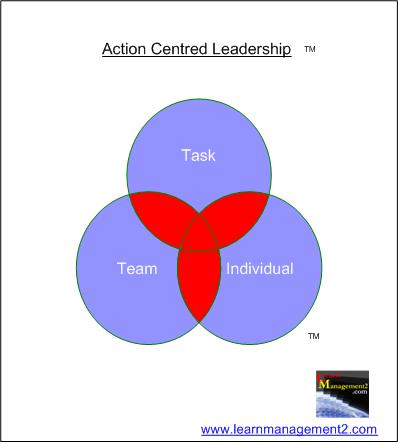 The diagram above has been reproduced with the kind permission of John Adair & Adair International Ltd http://www.adair-international.com and http://www.johnadair.co.uk/ .
Interdependent Functions
The three overlapping circles illustrate that each of the functions are interdependent. This is because individuals make up teams, teams/individuals complete tasks and without a task there is no need for a team or individual. If one element is missing or weak then the other elements will suffer. For example if the team is weak then the task will suffer and one weak individual can affect team performance and subsequently task completion. Adair said that leaders should therefore concentrate on:
Task Completion (achieve the task)
Creating and sustaining a group of people that work together as a team (build and sustain a team) and
Development of individuals within the team (develop the individual).