Quality
Quality is important to organisations and their customers; people like quality products and quality enhances business reputations. However do not equate quality with expensive, as price is simply the amount the seller wants to charge for their product.
What Is Quality?
Quality is a very personal thing, one person's view of what features make a quality product will be different to another person's view of quality. In general quality features can be split into two groups tangible features which you can see or assess and intangible features which can not be seen and are a matter of personal opinion.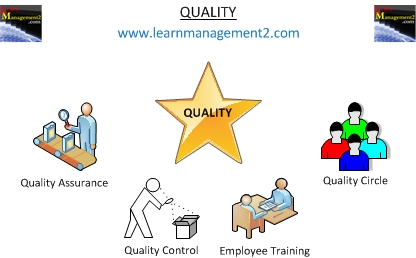 Examples of Tangible Quality Procedures
Reliability
Performance
Durability and strength
Appearance and finish
Longevity
Examples of Intangible Quality Features
Product reputation
Celebrity Endorsement
Public image of the product, brand or company producing it
The product is viewed as an exclusive item, difficult for most people to access or buy
Benefits of Quality
There are many benefits of having procedures that produce quality goods and services, including:
Increase in sales
Good business reputation
An advantage over competitor's products
Option to charge a higher price than competitors with "lower" quality products
Reduction in overall business costs due to less wastage and rectification
Quality Assurance
Quality assurance is about prevention; its purpose is to ensure that products and services are not below the standard expected. Quality assurance procedures apply to the production process because that is the point when events affecting the quality of the product are most likely to happen. Organisations will adopt quality assurance procedures based on their industry and product. However Total Quality Management (TQM), Kaizen and ISOs are popular quality assurance systems. Click on each of the words to learn more.